Umbrella Tutorial
Do you want to be able to learn how to easily create a beautiful floral umbrella?? Yes, and either keep it for yourself or sell it?? Then this easy to follow video is for you!
Whether you're a weekend crafter or a professional, Floral Designers Terri Marshall and Olga Marshall break down all the steps for you to create this umbrella door hanger. Each part of the process is clearly shown in detail for you with tips on making it from start to finish.
Your 38 minute video class is ready for your immediate viewing or download. How easy is that? You can view it over and over if you want, or save it for a later date to refer back to. We make it easy to do and easy to view!
What will you learn?
How to properly prepare the umbrella for the florals to be inserted.
How to use the florals for placement in getting the best overall shape and look.
How to tie the bow and placing it on the umbrella.
You will learn how to make the hanger and where to place it so the umbrella will hang sideways on the door.
You will receive a downloadable PDF list of supplies and tools suggested to complete this fun project.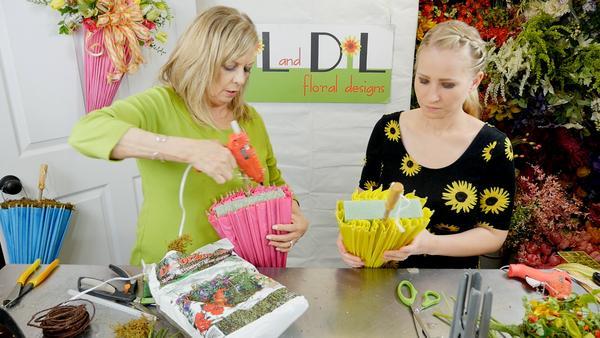 Let us tell you a little bit about who is teaching this tutorial!
Terri Marshall and Olga Marshall are the owners/floral designers of MilandDil Designs. Terri (the MIL or mother-in-law) and Olga (the DIL or daughter-in-law) have been in business since 2011.
Terri has been creating and designing silk floral arrangements, wreaths, and other home decor for many years, both as a business and hobby. Her specialities include seasonal home decorating for all holidays, including Christmas trees, mantles, staircases, tablescapes, door surrounds and home decor staging.Purchasing quality materials from designer showrooms and other market suppliers gives MilandDil Designs an advantage to creating beautiful high quality and well constructed products.Olga's background is even more diverse with her training in fresh floral design having done weddings for many years in the San Francisco Bay area before moving to Shreveport.
These two designers blend their talents together for the perfect combination. You will learn construction techniques with proven methods to make your design marketable and well made ready to sell or simply to enjoy for yourself.
Here's a sneak peek of what you will learn!
Click on photo below to complete your purchase and start learning how to make this umbrella now!